This is my new knitting bag...looks like luggage don't it. But too big to fit in the overhead...RATS!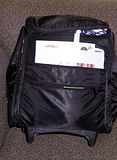 This is it opened. I really dig the pink stripes. Look it is full already.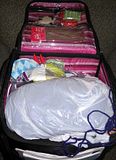 I have to admit I just dumped what was in my two knitting bags into this one. But did some organization at the hotel last weekend (No CourtTV on the tv. Means no so cool shows like Forensic Files and all that).

What is in your knitting bag???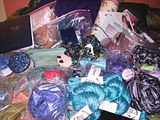 This is a picture of mine. Here is the list

6 Skeins of Berroco Cotton Twist
1 Ball of Gioco
1 ball of Eros
1 skein of Trendsetter Segue
1 ball of Eros and Flirt wound together
Set of Denise Interchangeable
2 balls of Eros and eyelash wound together
Lantern Moon Sheep Tape Measurer
Joann's Sheep Tape Measurer
2 gauge markers
my knitting supply kit (holds needles, scissors, stitch markers, and
stitch holders)
2 balls of Koigu KPPPM
Calculator
Notebook
Wine carrier for my straight needle
Pencil case for my double points
Noro 18
Laines Du Nord #2
Vogue Knitting Fall 2005
Shapely Tank Pattern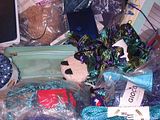 Here are some close ups of the Pencil Case and Wine Carrier. I have to say they work rather well for holding needles.




Projects: