Finally arrived in Shannon at 7:30am in the morning. Exhausted and tired for the sardine can known as an Airplane. First thing, claim the luggage. For once my luggage and myself arrived in the same place at the same time. YEAH ME!

My luggage has been to better places than I have or has gotten there before I have (aka the trip to Manila where the luggage went on 2 earlier flights).

Second thing, get the car. The car we were given was the same one my mom got over a year ago.

For the most part, all the cars in Ireland are small, this one was a four door. It took some getting use to getting in on the other side. In the airport, I asked should I hit the ATM. My mom said no need there is one at Bunratty Castle. I shouldn't have listened to her.

So off we go to Bunratty.

View from the car, while driving.

The Castle

The ATM was not working, so we couldn't do anything. She had a few Euros. All I had was some Philippine and Mexican money (in my passport case) and about 12 bucks. So we decided to drive the time share we were staying at...all the way on the OTHER side of Ireland south of Kilkenny.

The pictures of the place look rather cool but nothing compared to the actual place. So three hours later, we were pulling in to see this.

This is the front...can you believe it. This is where we stayed a converted abbey.

Right in front is an old ruin and cemetery...oohh ahhh.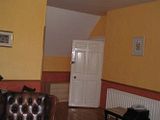 We were on the 3rd floor, 47 steps to that floor... no elevator and a ton of
luggage to carry up. This is the entry area to the room

The beds

The kitchen and bath.

Pics of the bathroom (I liked the color scheme and tile used. So did my mom who has to redo one of her bathrooms.)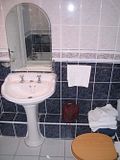 Please note the double taps. And let me tell you Cold is very cold there.






The tub with a hand shower.



This is a view from the main window overlooking Knocktopher.

We then relaxed for the rest of the day. Slept most of it, I can't sleep well on planes.

NOTE TO SELF: Better to fly in at night and get a hotel near the airport and sleep than try to function on little sleep.