Lots of Pictures Ahead...
Sit and Knit at Fiber Arts Saturday...
Here I thought I was running late but when I got there the only one there was C and Roz the owner. C was working on her Fixation IPOD Arm Band which she is designing and I get to test!!We were later joined by L of
Chibisan Knits
who was crocheting a vintage pattern.
Here she is hooking away while T in the background was doing something on PDA.My soon to be felted tote bag is sitting on the table with the form in it (see old physics books are good for something).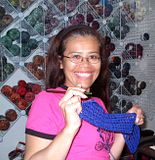 Showing off the goods...you knitcheter!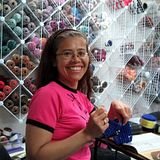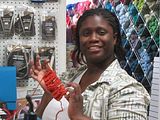 Then walked in the Croknitter: A. I taught her to knit (my evil plan so I would always have someone one cool to knit with). She is working on the Touch Me scarf from Scarf Style. She was a lot further along but decided to Frog the thing much to L's horror. Go A!! This is her 5th project...she even has multiple projects (Sniff I am so proud of her)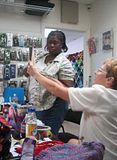 Here C is showing her some thing I think it is a pattern.

And what did I work on??

Bands- 15 stitch 1x1 ribbing for the sleeve bands on Lift and Separate from BGK.We didn't have enough of the main color Elsebeth Lavold Angora in Burgundy Red. So am doing the trim in Black.

This project is now dubbed Jean Luc because it is the same Colors as Jean Luc Picard's uniform!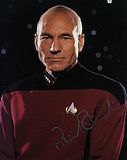 I also added some items to the stash last week: some Red Catania that was on sale along with some Jo Sharp Cotton for another BGK project.

Then on Thursday some DB Cashmerino for some socks, some Trekking Sock yarn, Regia Silk Sock Yarn in the same color as the Jean Luc (matching socks how 80's of me).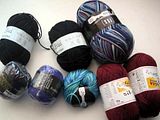 I also picked up a ball of black Fixation and variegated bamboo yarn for some pantas. The purple fixation is for the IPOD Arm Band.