Jean Luc pretty much looking like he did before I left...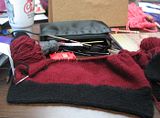 But my Book collection has grown.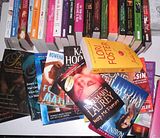 These were all for FREE and only some of them, I'm still unpacking. Also missing
are the 9 I gave to my mom that were mysteries.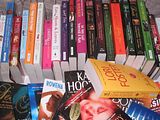 And not to mention the Yarn Collection (no longer a Stash but a COLLECTION). Sip and Knit had a HUGE sale that I hit on the way home. Somehow we managed to shove some yarn bags between all the book bags.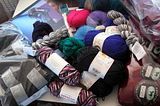 The COLLECTION
Closer look at the COLLECTION
Sip and Knit has one of the best sock yarn selections.
I picked up the new Laines Du Nord and Queensland Book 3. They also had some ChiaoGoo needles that everyone is talking about, so I got a set.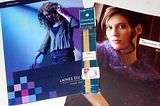 In the store, they had some scarves that I loved. I enjoy wearing scarves instead of heavy coats, Florida does not get that cold and a scarf will keep you warm while running from car to building. So I picked up some of the recommended mohair and the patterns for them. I also got some purple baby yarn-thinking thick socks for winter to wear around the house.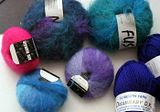 Lastly, we have a bag of Catania in the color I LOVE. Bag of Rowan Classic Yarns Cashsoft DK, and a bag of Fantasy by Dark Horse Yarns (this yarn is soo
soft).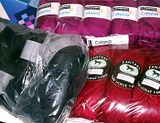 I will put up some pictures of the con at some point, I don't know how interested everyone would be in seeing them.