(Click right click images and open in a new tab or window for a larger view)
Every year I try to find a planner I can live with (not that I love but can live with)...every year nothing seems to work for me. I have tried electronic (bad for one who forgets to recharge things) to hard copy (easy to use pain to lug around). Store bought to DIY ( time consuming). Expensive (ooh Franklin Covey) to inexpensive (hello DIYplanner.com). They all have their benefits and their drawbacks.
This year I decided to try a different planner and was given the offer to receive it for free if I wrote a review on how it worked for me.
I sent them my information on the planner I wanted to review and waited. I got a lovely email from Karen who asked for additional information and I was selected.
I asked for the Journal 21 with a black cover. Mainly because Black is predictable and well you know you are going to get black, while with colors what it looks like on your screen may not be what it looks like in RL. I prefer the 1 day 1 page format. Not because I am ultra busy and need to plan my time out to the minute but because I can do other things on the page. I can jot a story idea down, write a journal entry, draw, collage .... I think you get the idea. Or do what I have done in other planners just slap some images on the page as a image record. In my email, I did mention I did do art work and was offerd a some of their
découpage
papers to try. I asked her to send what ever they had on hand.
In November, I got a package with my journal in it. I decided not to open it until New Year's Eve because I wanted not to be thinking of the journal and comparing it to others on sale locally. When I opened it I was pleasantly surprised and very happy.
Journal from
Quovadisplanners.com
Journal 21
Basic Journal/Planner
With some special presents...
découpage
papers from
DecoPatch
and their
découpage glue.
The glue was a surprise. I was a bit leary about using it. I usually use gel medium for gluing down paper or YES. My experience with Mod Podge is while it is a great product...not so great if you live in Florida. It gets tacky and takes a LONG time to dry. I tried Martha Stewart's verison but I got little itty bitty airbubbles in it that would cause it to peel like glue off your hand. This stuff is AWESOME but very very glossy. I will use test it with some art stuff to see what I get and if I like it. It is rather inexpensive when you compare the quality of the product to other similar products.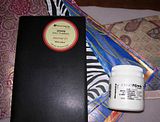 The papers are HEAVENLY!!! I need to order some of the ones I like. I thought I would be getting samples or left over pieces...nope. They sent me a sampler packet which had 2-3 sheets of each paper and it appears I have almost their entire range.
This is layer 1 of the journal cover. I plan on doing about 3-4 more of different things. Including a sealing layer (I need to order their varnish to seal it-very curious about the varnish).
The Journal Review:
Okay, this is the first review, because you need to live with the journal to know if it is something you are going to love verses just living with.
I like how it lays flat. This is first time I opened it and BAM it is pretty much flat. There were no strange binding going AUUUGH sounds and no pages floating to the floor.
Because it lays flat it means collage work and artsy stuff can be done to the pages without the planner trying to shut itself and messing up or causing things to stick to each other that are not meant to stick to each other.
The planner itself...has some whole month pages, needed for a quick overview of the month and months to come. It also has US Holidays for 2009 and 2010 (I work in the banking industry very important to know when I have off you know) and Major World Holidays, this is helpful because some of my clients live overseas always nice to know when their banking holidays are. International area codes...not needed so much because email is easier. US Time Zone map helpful. What I would change or really add... US Area Codes and a World map with Time Zones.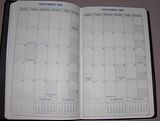 What I love is this, this is the first time I have seen it in a while for a planner,
Semi Annual Calendar. Six months on two pages. Makes making appointments so much easier, I have a bad habit of forgetting to write vacations down in the main pages. It has the holidays printed on it and Weekends and some National Holidays in gray. I tend to forget what days fall on weekends also.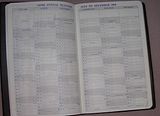 On the bottom corners, there are rip circles which makes getting to the most current page easier than having to move a today ruler bookmark thing.
Here is a picture of the actual page of planner. It is a nice open space with handy dandy lines for those who have problems writing in a straight line.
Below is my actual first writing of the New Year. My handwriting is crap and was trying to figure out the best pen for writing here. The writing did not bleed through but impressions were on the other side this is more me than the paper. I press heavy on pens that don't flow on their own.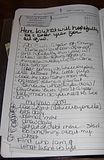 This was the first in reviews of this planner. I need to see how it works for me throughout the year. So far, I am very impressed. It would be worth the $22 dollars I have seen it offered for on the web. Also you can buy refills for $17. If you did book binding, I would probably do the refill and make a very cool cover myself.