Here are some more sketches of Stonehenge from my sketchbook.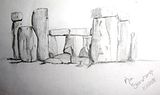 This is from a picture I took while there. It is a bit fuzzy(What you get when you take photos at 11pm). I will fix this come daylight. (If you click on it-the picture is clearer.)
This is a test run for a large piece. I wanted to see how it would work with the paper selection and the texture of the paper. It is charcoal, white charcoal and a Grey conte.