Part of the Art House Co-op's Canvas Project: Memories and Moments
I did Stonehenge. It was my first time there and we got there before it opened and were the first ones in. We had the Stones to ourselves (not counting the staff) for about 15 minutes where we zoomed around taking photos with no people in the background. Then the buses started coming in.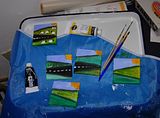 Waiting to Dry: Waiting to dry between steps. They are all mixed media. The First layer was paper from an old ency the entry on Stonehenge and a dictionary page.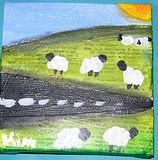 The road to Stonehenge is fields on both sides some with sheep in them (We were staying in a town about 5km east of the site).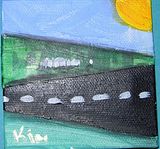 When driving, you see this field with grey stones sticking up. You really can't tell what they are...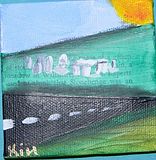 THEN BAM there be the circle.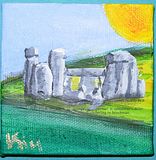 You go under a side road via a tunnel and it is right there. Get there first thing during the off seasons and you might have it to yourself.
Once the Tour Buses start coming it gets very very crowded.
Stonehenge: Mixed media: Paper, Oil Pastels, Acrylic Paint, and Charcoal.
Link to their flickr site with two of them on the wall:
http://www.flickr.com/photos/arthousecoop/3106013917/