First off: The Surprise Beaded Object.
This is how far I have gotten in 2 days, day 1 was spent creating a provisional support so the beads would not have tension issues. Originally, the surprise was going to be an amulet pouch done in tubular peyote. But it didn't look quite right, so I sat back for a couple hours and thought about it. I decided I would do a flat odd count peyote and for the back I am going to either do right angle or netted to give it some body. Right now it is very fluid, unlike Mardi Gras. For non-beaders this is due to the type of beads I am using for each product. MG is Delicas which are like little cylinders that when beaded peyote is like laying tile. This one is Japanese seed beads. I selected them because they give the finished project more texture and shading without lots of colors because they are more round. End of beading lesson 1.
There are only going to be 3 colors here --I feel at a loss without all my watercolor trays holding beads surrounding me. The colors do give it away for who the surprise is going to be for.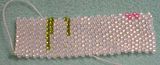 I am thinking of having a contest, first person to guess who is going to get this surprise will get something but not knitting related.



Beaders also have some great toys. Case in point: My thread burner. It burns the threads so they don't fray and make it so you don't have to use glue or nail polish to secure knots. But it was a tad costly...$25 and the worse part I already have one...it is a wax carver for carving wax to make casting forms which costs about half the price. Dang.
Next continuing in the beading tradition but with some knitting....
The Knitted Beaded Amulet pouch. It is half done. I will have to say I am liking it better now that we have beaded in the mix. Also the thread is easier to knit when the beads enter the mix. This is not exactly what I want to do Bead Knitting-wise but it is a start. I have learned a lot so far including I can write a better book than the one I am using. The beads are Czech matted beads, they make a grating sound when moving past each other which takes some getting use to. This is due to the chemical they use to matte the glass makes them very finely rough, that is the only way to explain it. Why Czech? Because the Czech have people who put the beads on temporary string, which translates I can run my needle down them and transfer the beads thus not having to dig out a bead spinner and instructions.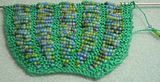 Beads and Knitting--not to shabby.
On to the knitting:
My first pair of socks are done and need to be washed. I did wear them to work one day last week and no one believed I had knitted them. But I will have pictures soon.
On the needles now--
Noro Daria that I am making a purse with. Why a purse... because seriously that is about all you can do with it. It is not soft. It does not have a lot of flexibility to the thread. It has texture. It is a B*TCH to knit with I said it is like knitting with plastic washing line cord. What is most odd is my knit is far looser than my purl, so I actually have to change how I knit and purl. English for the Knit and my normal way for the Purl, which is Combined. Seriously, avoid this unless you want a challenge. And I am going to have block it to get it to straighten out a bit
.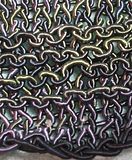 Close Up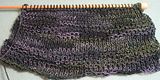 Please block me...
Next adventure with Noro...Noro Silk Garden to be exact. I am making a skull cap from one of the Noro books. I love this color way. I love how it looks and the feel of it. But the yarn don't love me. I am actually allergic to something in the yarn. Now since I have worn all the fibers used to make it in one form or another I know it is not the fiber. It is the chemicals they use to dye the sucker. I washed the yarn and I can knit it without my hands going poofie and itchie. I don't think I will be using this yarn to make a sweater, but it depends on how it goes once I give it a good wash.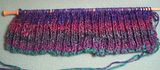 So so innocent here...so so deadly to the hands....
Lastly, we have Plymouth Flirt and Eros knitted together for a scarf. The yarns on their own are not too impressive but when combined look very nice. One night at my LYS, a woman had a scarf made with this yarn and showed me what she used. Out the door I walked with them, though I have changed her pattern to this. It reminds me of the ocean and sea weed for some reason. And it needs beads...it just does. Leaded Crystal to be exact going to add some BLING to this one.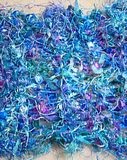 Don't Hate me because I am pretty...but I do need some BLING.