No, I have not fallen off the face of the Earth. I have been buried under a mountain of work at the office and homework for school.
It is a new session of the Knitting Secret Pals--Number 5 to be exact.
I came home from a crazy day at work to find a very bright green mailing envelope and inside pretty pink packages.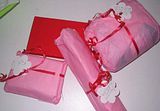 I saved the little notes on the packages in my scrap book (the old fashion kind).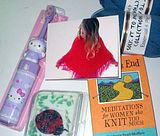 A HELLO KITTY TOOTHBRUSH!!!!!! I needed a new toothbrush and now I have one. At Knits End which is in the work bag I bring it out when work starts getting me really down. 2 skeins of solid color sock yarn ( have a pattern in mind for them, just need to locate it). A card with a poncho pattern (the only people who always look totally adorable in ponchos are kids). And a lady bug handmade soap bar, it is almost too pretty to use.
Thank you so much for the wonderful presents. I really love the toothbrush.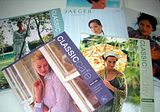 I did a raid on Knit Happens...mainly because NO ONE sells Rowan books here (well one store is carrying a small selection of the yarn and two books). I also picked up some Jaeger books. The Noro is from Fiber Arts here in Tampa, it has a hat pattern I really like. I like Noro...Noro does not seem to really like me though which is a shame.
Today Knit N Knibble had their first birthday party. They had door prizes (didn't win sniff) and some little free things (fridge magnet, needle record, and FREE COOKIE!! homemade kind not store bought COOKIE!!!) I picked up some things I needed. Did not go crazy. I did get some Denise needles for travel. The Laines Du Nord has some great patterns in it. I heart their yarn.
You have to love Joann's 50% off coupons. I usually get three so here is what I picked up Two books on jewelry- the one front and center has some KILLER pieces I can't wait until I get some free time ( as in No School) to create some of them. The metal clay has some cool patterns. I need to work some in this medium I took a workshop and had fun. But you really need a kiln which I don't have yet. The studio has one but I don't get down there enough. The other three are knitting books.
Speaking of 50% off...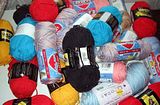 Clearance yarns---I went a bit crazy but they were all around $1.50 each. The red and gold yarns are going to a friend who wants to make a Harry Potter scarf in time for the new movie, she is new to knitting and does not want to use expensive yarns. The rest are mine. I got several skeins of lace weight yarn to make some shawls with...$1.50 a skein yarn will make good practice yarn. I like to make a trial one first...it works for me I don't freak out about frogging over and over good yarn and making it look all nasty like.
(as always click for a larger pic.)