Somewhere out in the Wild Wild West there is a SP who sent me a BOX.

The Box...
That has been calling me and taunting me all night....


It's is open... and underneath...

TADA!
OOoohhh Ahhhh



Some lotions and body wash (I LOVE PHILOSOPHY products) in a zip lock (which has been put to use already hosting some PMC items I need to fire), a Lovely heart container, some candy and a mystery package under it.

The Goods (sorry listening to The Fully Monty)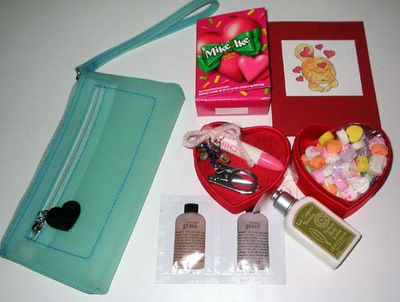 In the mystery package was a lovely aqua colored bag inside a pair of folding scissors, a needle holder and some stitch markers.

Stitch Markers. I love them. They are gorgeous. I love the green and blue color combination. Now I got to figure out what to make so I can use them.

THANK YOU THANK YOU so much my SP.
Who shall remain a mystery longer...because someone got to my package in the middle of the night and removed the postal stickers...something about me studying Crime Scene Techology and a mystery to solve. So All I know my SP is in the Wild Wild West. Which means any package I get will have the postage labels removed before I even see it. It sucks to be the last one home from work... a mystery.
Hmm next time maybe I should dust the package first.